OVERVIEW
Good News! ICCCBDA 2020 论文集在会后1个月上线 IEEE Xplore , 会后2个月左右被EI Compendex & SCOPUS 双检索!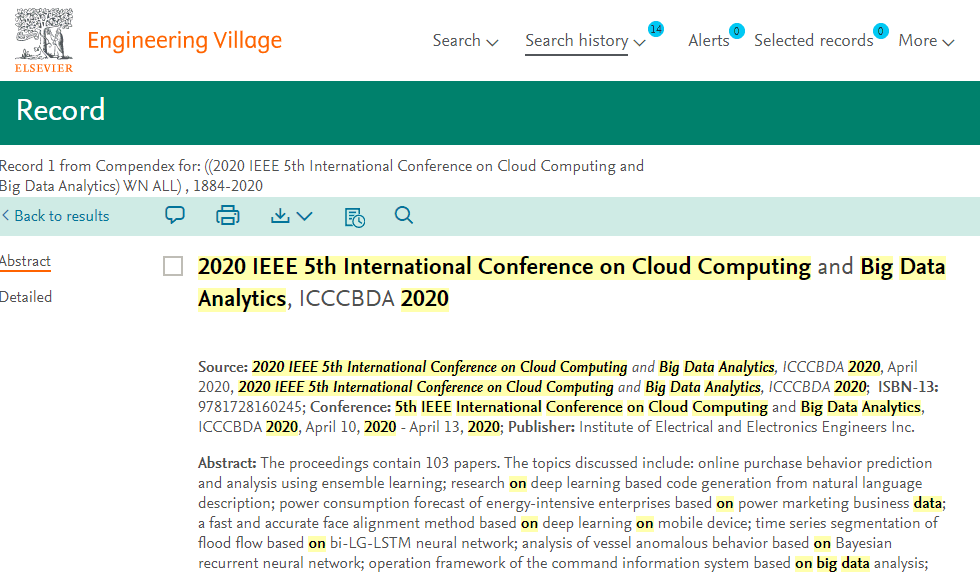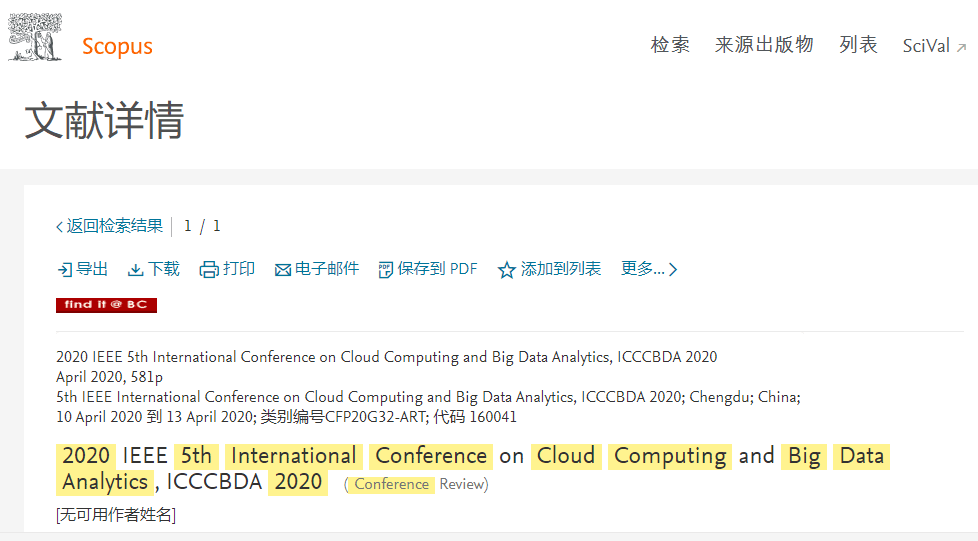 Welcome from the entire organizing team, and we look forward to seeing you soon again in Chengdu.
2021年第六届云计算与大数据分析国际会议 | 2021年4月24-26日 | 中国成都
2021 6th International Conference on Cloud Computing and Big Data Analytics (ICCCBDA), held in Chengdu, China, between 24-26 April 2021. Several current and upcoming frontier technologies, innovative solutions, research results, as well as enterprises related to cloud computing and big data analytics and their applications will be presented.
ICCCBDA 2021会议征稿环节正式启动!! 会议主题涵盖云计算与大数据分析以及相关领域,欢迎大家踊跃投稿,所有录用文章将以论文集形式出版,在线收录至数据库, 并在会后提交 EI Compendex 和 Scopus 检索,ICCCBDA2020一直保持着非常亮眼的出版和检索记录!往届会议论文集均被收录检索,点击查看

ICCCBDA has been held since 2016, sponsored by IEEE, and organized by Sichuan Institute of Electronics and Xihua University, co-organized by Southwest Jiaotong University and Sichuan University, China; technically supported by Key Lab of Cloud Computing & Intelligent Technology, Sichuan Province, and Chongqing University of Posts and Telecommunications, ect...

It serves to foster communication among researchers and practitioners working in a wide variety of scientific areas with a common interest in improving cloud computing & big data analytics related techniques. And the conference program will feature plenary sessions, technical and paper presentations. Distinguished speaker will be invited to deliver keynote speeches and invited talks on emerging technologies in cloud computing & big data analytics. Interested parties without papers are also invited to participate as attendees at the conference. 
You are invited to participate in this great event for sharing ideas, friendship and culture in the long history and hospitality city-Chengdu.
CALL FOR PAPERS | TRACKS
CONFERENCE PROCEEDINGS
Accepted papers will be included into ICCCBDA 2021 Conference Proceedings which will be published and submitted to Digital Xplore. Those papers will be submitted for indexing to Ei Compendex and Scopus.

所有录用文章将以ICCCBDA 2021 论文集形式出版,收录至在线数据库, 并在会后提交 EI Compendex 和 Scopus 检索, 文章作者将被邀请参会展示研究报告.
Good News! ICCCBDA 2020 论文集在会后1个月上线 IEEE Xplore , 会后2个月左右被EI Compendex & SCOPUS 双检索!
Go check the previous ICCCBDA publication records 往届ICCCBDA会议论文集均被收录检索
Call To Submission
Prospective authors are invited to submit high-quality original technical papers for presentation at the conference and publication in the conference proceedings.

Electronic submission of full papers: December 5, 2020
Notification of paper acceptance: December 30, 2020
Registration deadline: January 15, 2021
Camera-ready of accepted papers: January 15, 2021
Conference: 24-26 April, 2021
News update & announcement
Good News! 澎湃新闻网关于 ICCCBDA 2020 会后新闻报道. Click
Good News! 四川电子学会关于 ICCCBDA 2020 会后新闻报道. Click
四川电子学会关于 ICCCBDA 2019 会后新闻报道. Click
四川省科学技术协会关于 ICCCBDA 2019 会后新闻报道.
中国计算机学会 (CCF) 收录 ICCCBDA 2018 会议召开信息 Click
四川电子学会关于 ICCCBDA 2018 会后新闻报道. Click
Website of Shanghai Jiaotong University recommends ICCCBDA 2018 conference. Click
ICCCBDA 2018 进入由中国教育部主管的中国学术会议在线会议列表
四川电子学会关于 ICCCBDA 2017 会后新闻报道. Click
ICCBDA 2017进入由中国教育部主管的中国学术会议在线会议列表
感谢中国科协及四川省科协对ICCCBDA 2016会议的报道!
四川电子学会关于 ICCCBDA 2016 会后新闻报道. Click
ICCCBDA 2016进入由中国教育部主管的中国学术会议在线会议列表
Organizations
主办单位 · SPONSORED BY

IEEE



承办单位 · ORGANIZED BY

Sichuan Institute of Electronics
Xihua University


联办单位 · CO-ORGANIZED BY

Southwest Jiaotong University and Sichuan University


技术支持单位 · TECHNICALLY SUPPORTED BY

Key Lab of Cloud Computing & Intelligent Technology, Sichuan Province
Chongqing University of Posts and Telecommunications
Athabasca University, Canada
Central Michigan University, USA
Chengdu Sefon Software Co., LTD


友情链接 · MEDIA PARTERS

信息发布平台支持 & Wechat Assistant


Wechat Official Accounts 欢迎关注公众号 及添加Wechat Assistant 微信秘书